Brayden Maynard's airborne smother attempt in the qualifying final saw Angus Brayshaw carted off with concussion, drew the usual battlelines and exposed footy's many fault lines. His tribunal hearing will test our tribal loyalties, our governing body, our football media, our former champions, our understanding of the laws of the game, and our definitions of 'football acts' and 'duty of care'.
It's a test case for the AFL and its new General Manager of Football Laura Kane. For so long, the AFL has met these issues just short of halfway – they've done the sums, read which way the wind's blowing and covered their backsides legally. Kane's intervention was hardly 'unprecedented' as has been reported, but in just her second week in the job, she acted decisively and properly.
It's a test for the Match Review Officer, Michael Christian, who didn't believe Maynard had committed a classifiable offence. It's a test of the former players who invariably drive the narrative, men who have been treated very kindly by the game, and who have been lucky to emerge mainly unscathed and without cognitive impairment. It tests their ability to accept that their sport has changed, and that many of their former teammates are struggling with depression and violent mood swings as a result of head knocks.
One of them is Shaun Smith, whose son was playing on Thursday, and who estimates he was knocked out a dozen times during his 109-game VFL/ AFL career and suffered more than 30 concussions. I'd be interested in his thoughts on this case more than a Channel 7 commentator or a Fox Footy analyst.
It's a test of us as supporters. We can nod our head and say 'Oh yes, something's has to be done here, the head in sacrosanct, we need a cultural shift.' But when it's our team, and our favourite player, we get all defensive and don the duffle coat. On social media, this incident has been thrashed out almost exclusively along club lines – Collingwood versus Melbourne.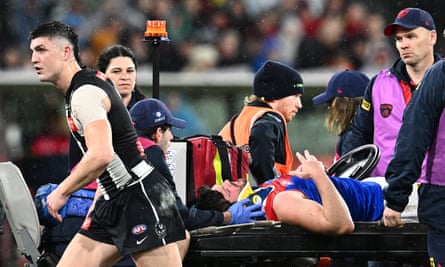 It's a test of the football media. The game has never been less violent. But the way the way we talk about it is as gung-ho and as over-the-top as ever. Commenting on this incident required a bit of restraint, a bit of nuance. Brayshaw was still being carted off when the toys started flying from the cot. In his 'Sliding Doors column' on the AFL website, Damian Barrett said "this sport is promoted as controlled-brutal" and "accidents happen in controlled-brutal." I'm not sure what those sentences even mean, let alone achieve, particularly when written on the AFL's dime.
Apparently it's also a test of who is, and isn't, qualified to comment on the game. Here's Kane Cornes: "Now I get people saying he should be suspended but that's coming from people who don't understand, and probably haven't played, the game." At least Cornes, as always, had the guts to say it, although in this instance, it was clearly a dig at Laura Kane.
It's a test of the validity of the term 'football act', which has been trotted out ad nauseam since Thursday. Leigh Matthews was one of the few former players to stress that this entire case boiled down to a duty of care, to the difference between 'careless' and 'accidental', to whether Maynard turned and shouldered Brayshaw's head. The idea of 'football acts', he said on the weekend, was an anachronism, and completely irrelevant in this instance.
It's a test of the 'great bloke/heart-and-soul-player' defence. "It's all love – I absolutely love that guy to bits," Maynard said on Thursday. That's great. A few days later, he popped around to Brayshaw's house with a bottle of red. That's great too. But it's irrelevant. It's just PR, and Collingwood's PR machine is slicker than any other club's.
"It's understood Maynard is genuinely apologetic," SEN reported. Apologetic for what, exactly? It reminds me of the scene in The Sopranos where Ralphie Cifaretto apologises to Johnny Sack for insulting his wife, despite professing his innocence. "What did I say," Tony berates him afterwards, "No apology!" Ralphie was playing for his life. Maynard is playing for a premiership.
I'm not suggesting Brayden Maynard should be suspended. I think this is as line-ball as footy incidents get in 2023. I love the way he plays. I don't think it was the act of a thug. It would be a crying shame if Maynard is rubbed out. But this absolutely has to be tested. This will give us greater clarity on what constitutes duty of care on a football field, on the thin veneer between careless and unavoidable. If a much-loved player misses out on a Premiership as a result, then so be it.