Angus Brayshaw is "not going great" after his heavy collision with Collingwood's Brayden Maynard, but teammate Christian Petracca says Melbourne remain hopeful he will yet be fit to return this finals campaign.
Brayshaw has been ruled out of the semi-final with Carlton due to the concussion he suffered in the collision with Maynard. A source with knowledge of the incident, who was unable to comment publicly, said Brayshaw was unconscious for more than a minute on the MCG after the knock.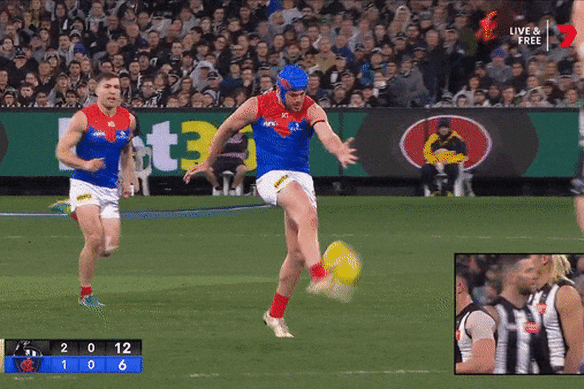 Maynard was referred directly to the tribunal over the collision, which occurred when Maynard flew to try to smother Brayshaw's kick, then landed on him and knocked him out. He will miss the rest of the final series if found guilty.
The case will likely hinge on whether Maynard did all he could to avoid contact with Brayshaw as he was landing.
"[A return to play this year] will be based on what 'Gus' is feeling and his symptoms," Petracca said.
"Obviously there is the 12-day protocol. If we win this week, fingers crossed Gus feels right to play in the prelim, but I feel like, when I saw Gus and speaking to him, footy's just one thing, it's all about his health, and you've got your brain for the rest of your life. Footy's just a part of you.
"When I speak to him, and you look at people with concussion it's more than just footy. Whatever he wants to do, it's up to him."
"He's in pretty good spirits, but he is sore, which I suppose anyone would be when you get concussed."
Petracca did not want to comment on whether Demons players had an issue with Maynard over his role in the Brayshaw collision.