While Kingsley – a former Tigers' premiership assistant coach – prospers, Cotchin was also effusive about Andrew McQualter, the caretaker Tigers coach vying for the top role permanently.
The Tigers are closing in on a replacement for Damien Hardwick, who quit mid-season and is now with Gold Coast.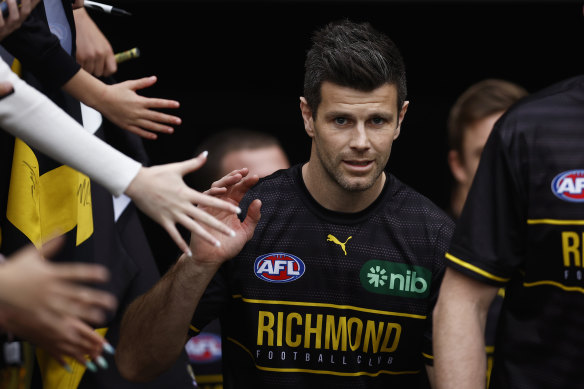 While the Tigers fell short of finals, Cotchin said McQualter, a long-time assistant, would be a brilliant appointment.
"I expected him to be brilliant at what he did. He is so invested in the players and the care and making sure he maximises the talent that is on the list. He did that brilliantly," Cotchin said.
"It is always hard when that finals opportunity gets taken away from you, which happened probably two or three weeks out from finals, and keeping a team motivated is really hard. But the way they performed in the [second] last round with a few players out was really special and significant."
Cotchin said McQualter had "everything that is required to be a brilliant senior coach".
"I know that his ideas and plans, if he was to be, obviously, the successful candidate, are really exciting for the club, but I am sure the club is doing everything they can to select the right person for the role and how to take the club forward," Cotchin said.
The Tigers beat North Melbourne by 29 points in round 23, on a day they said goodbye to Cotchin and fellow retiree Jack Riewoldt. They were beaten by Port Adelaide in the final round of the season.
Coach Craig McRae had admitted Daicos would have been short of a run if required to play this week.
But with Collingwood earning the week off by beating Melbourne in last week's qualifying final, the pressure on the 20-year-old to return has been relieved.
Daicos hit the track for around two hours in warm conditions at Collingwood's training base at Olympic Park Oval on Wednesday, running through some drills with development coach Neville Jetta.
The midfielder was kicking, running and bar a couple of ginger moments, was moving well and in good spirits ahead of his planned return against either Port Adelaide or GWS at the MCG next week.
Loading
Older brother Josh has tried not to badger Nick about his knee too much, instead supporting the 20-year-old through his injury.
But the winger is confident the young gun, who averaged 31 disposals and kicked 18 goals before his injury, will hit the ground running when he returns.
"He's just been super professional with his rehab and obviously wants to come back so bad," Josh Daicos told AAP ahead of the finals.
"It's the best time of the year, finals. He was very optimistic about it and attacked rehab. So yeah, he'll be ready to go."