He says there have been 120 concussions this year, up by 16 per cent. He told AFR Weekend he has some idea how Platten feels.
"I have some pretty ordinary days and some better days, I feel sorry for the people around me, putting up with my shit and my mood swings," Smith tells AFR Weekend.
"That's the reality. You see these goons online, they have no idea about the impacts and the AFL just wipe their hands.
"If you can't help a bloke like John Platten, who has won four premierships and a Brownlow Medal, then who are you going to help? If the players need to resort to litigation to get some help, that's telling you something."
As former Collingwood president Eddie McGuire celebrated the tribunal's Tuesday night verdict, declaring "justice has been done", Smith took to Facebook to label the decision an "embarrassment and an absolute joke".
"People cheering like they have just won a game, it's disgraceful behaviour. Brayshaw's career could be over – it's disgusting," says Smith, who is the father of Melbourne Demon Joel Smith, a teammate of Angus Brayshaw, who was concussed and stretchered from the MCG in the Maynard incident.
The incident means Melbourne is without Brayshaw, a key midfielder, for Friday's night's blockbuster final against Carlton, while Port Adelaide and GWS Giants play the weekend's other final.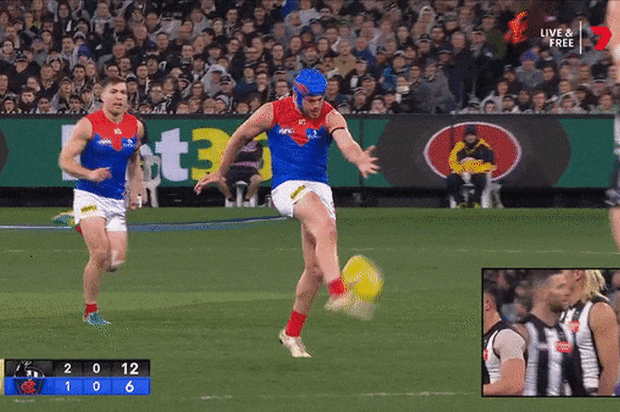 The winners will play Collingwood and Brisbane in the two preliminary finals next weekend, ahead of the Grand Final on Saturday, September 30.
South Australian-based lawyer Greg Griffin is leading the class action with Smith and others and says it is the most important discussion in modern Australian sport.
"The class actions should not pose an existential threat to the game," Mr Griffin says. "Without our players, we don't have a game."
"We could assemble an all-star team from our client list, as good as any the game has ever seen," he says. "No one is saying the game can't remain a fast and physical game but there needs to [be] better protections for the head," he says.
The AFL responded again this week, claiming the "health and safety of players at all levels of the game is the AFL's key priority". It says more than 30 changes have been made to the game's rules to protect players' heads, including new concussion protocols that mean a player can't return to play for 12 days.
Mr Griffin admits the crisis has gone from barely being discussed and dismissed by the AFL and NRL to significant changes to the rules.
But he says former players never received the same protections and that "the system is still fragile because it still lays in the hands of club doctors" while in the US there are independent neurosurgeons.
The lawyer for football great Gary Ablett snr– who is suing the AFL and two clubs, claiming that he suffered damage from concussions from their negligence – warns there is much more litigation to come, unless decisive action is taken.
Michel Margalit is acting for Ablett, as well as a rival class action of players currently before the Supreme Court of Victoria. Ms Margalit and Mr Griffin are making submissions to the court on Friday about how the rival class actions proceed.
Ms Margalit expects many more players to come forward, noting many of the symptoms, including memory loss and anger are confusing and men have been ashamed to come forward. She also argues professional sporting people have been unfairly excluded from workcover claims.
"The game has become big business – culturally and financially," she says. "These players should be afforded proper care and safety given the issues can have life altering ramifications."
"We can expect a lot more players to come forward to seek appropriate support and financial and economic support as it becomes more socially understood and accepted."
Clubs want indemnity
GWS Giants president Tony Shepherd says club boards are also run by volunteer directors who are demanding an indemnity from the AFL as they are joined to the legal proceedings.
"The clubs are extremely worried about the whole issue," he says. "The clubs are, of course, concerned foremost about the players but also from a point of view of personal liability."
AFL's new head of football, Laura Kane, says it will look at the issue again at the end of the season. Mr Shepherd is urging for a full review.
"If I was the AFL, I would launch a full-blown inquiry into this and similar incidents with experts and decide if the rules need to be changed," Mr Shepherd says.
"You can't make the game risk-free, but if we can lower the risk, we should and must."