The great Norm Smith might be having one last laugh at the behest of the Melbourne Football Club, the club he coached to six premierships before being kicked to the curb in shabby circumstances.
Over the past two years, with the Demons triumphing in a historic premiership in the first AFL grand final played in Perth and then securing a first women's flag in Brisbane last November, it seemed the "curse of the red fox" that hung over the club for nearly six decades had been punctured in emphatic fashion. With champions like Max Gawn and Christian Petracca running rampant, further flags seemed within reach for the Demons, while Daisy Pearce ended her playing career holding the AFLW premiership cup.
But might the final twist from the curse – which stems from Smith being sacked in 1965 from the reigning premiers after leading the Demons to six flags in a decade – be that only a small percentage of longsuffering Melbourne fans actually witnessed the recent triumphs in person?
Covid lockdowns ensured only Western Australia-based Demons, along with a handful of lawbreakers, were at Optus Stadium for their 2021 triumph over the Western Bulldogs. About 14 months later, Melbourne's first AFLW triumph was secured in the outer-western Brisbane suburb of Springfield at the Lions training venue, with nearby roads still under construction.
Ergonomist Ted Dohrmann, who hails from a lineage of Melbourne fans and bleeds red and blue, is desperate to see a Demons premiership at the MCG. In 2021 he adorned his family home in Yarraville with big posters and murals, including one of Petracca. The Dohrmanns are personal sponsors of the Norm Smith medallist – the award for best afield in the grand final is named after the player and coach – having previously backed former Demons goal sneak Shannon Byrnes.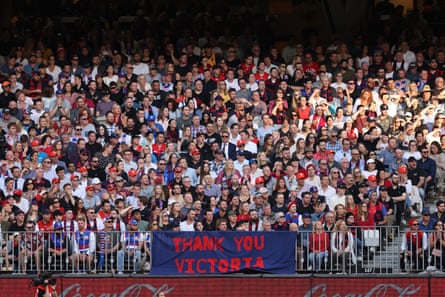 Dohrmann said being unable to attend the 2021 grand final, or even watch alongside his parents and siblings given pandemic restrictions, is a regret. "In many respects, 2021 was like missing the birth of your first child," he said.
"It's wonderful they arrived, as you had always hoped and dreamed. But you never thought it would be something you would have to watch on Channel Seven. Being there to celebrate a flag in person would be amazing. We should have all been there together. It would be great to soak it all in. I always said I'd take a fortnight off work to party, and I am still owed that."
Prior to last week's qualifying final loss to Collingwood, Melbourne captain Gawn touched on the lament felt by fans about the 2021 premiership.
While thrilled to "tick off a childhood dream", he told the Herald Sun he felt a sense of hollowness with so many people he loved and respected absent. His parents had watched the infamous 186-point loss to Geelong in 2011. They were also in attendance when he wrecked his knee twice. But they missed out on experiencing the big one. Nor were club favourites such as Neale Daniher, David Neitz and Nathan Jones able to get to Perth to watch Melbourne's 74-point thrashing of the Western Bulldogs.
"That is something I would like to do," Gawn said. "Celebrate it with the people who mean so much to me. My parents have been there … for my biggest lows, but for my biggest high, they weren't there. So it sort of feels like I've duped them a little bit. Although, to be fair, that was my goal last year as well and then we went out in straight sets."
A truism remains in football. When it comes to winning flags, form and fortune must be working in tandem. The Demons were bruised and battered when bundled out last September with back-to-back losses after appearing unstoppable in the first 10 rounds of their premiership defence. They face the ignominy of being the first club to exit consecutive finals series in straight sets, under the system introduced in 2000, should they fall to Carlton at the MCG in Friday night's semi-final.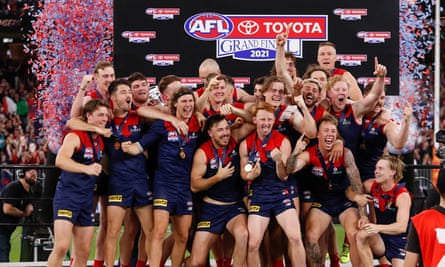 Inaccurate kicking proved the curse against Collingwood in a qualifying final last week. Injury and suspension has weakened the Demons this week. Angus Brayshaw will miss due to concussion. Jacob van Rooyen is suspended (Collingwood's Brayden Maynard is not). Jake Melksham was cut down with a knee injury on the eve of the finals, while coach Simon Goodwin vowed Gawn and midfielder Clayton Oliver would play despite reported toe and knee concerns.
Melbourne's best football is probably good enough to win the premiership. But that has proved elusive over the past two years, which plays to the deepest fears of fans hoping to watch the Demons claim football's holy grail at the MCG. Despite the concerns, Dohrmann, who never really believed in the curse, is convinced they can do it again.
"I've always believed," he said. "That's what made the premiership so good and will make this one even better. Go the Dees."