Key events
Q4, 15 mins remaining: Melbourne 9.12 (66) v Carlton 9.5 (59)
The Demons duo of Bayley Fritsch and Kysaiah Pickett have been potent since half-time, with the pair combining for another crucial goal for Melbourne.
Pickett was able to win the footy deep in attack and find Fritsch, who is gaining confidence and was able to snap his second goal for the night.
Carlton has enacted their substitute Oliver Hollands, who replaces David Cunningham.
Q4, 17 mins remaining: Melbourne 8.11 (59) v Carlton 9.5 (59)
Charlie Spargo has been a good inclusion for the Demons and just set Kysaiah Pickett up for his second goal of the half, with the score again level at the MCG.
After a dour second and third terms, the semi-final has opened up early in the last quarter as both teams vie for a preliminary final berth.
Q4, 18 mins remaining: Melbourne 7.11 (53) v Carlton 9.5 (59)
A passage that began in defence with the familiar combination of Adam Saad and Patrick Cripps, and included a crucial interjection from Charlie Curnow, has helped Carlton score their second goal in as many minutes to start the last quarter.
Matthew Owies was on the receiving end of a tremendous passage from the Blues and has put Carlton a goal in front after an excellent set shot from 35 metres out.
Q4, 19 mins remaining: Melbourne 7.11 (53) v Carlton 8.5 (53)
Scores are tied at the MCG after Sam Walsh burst from the midfield and kicked a superb long-range goal in the opening passage of the term.
It is Walsh's second goal for the night, with the Carlton midfielder clearly among the most influential players on the ground.
3QT: Melbourne 7.11 (53) v Carlton 7.5 (47)
The semi-final between Carlton and Melbourne remains in the balance at the final change with the Demons holding a six-point lead at the MCG.
The Demons had the better of hard-fought third term, but neither team managed to find fluency in attack given the pressure being applied by both sides.
Melbourne has been particularly potent in the final quarter this year, outsourcing their rivals in 18 of the 24 last terms they have played at a percentage of 162.
The Blues, in comparison, have managed to outscore their rivals in 11 of the 24 final terms they have played.
Christian Petracca and Bayley Fritsch were lively in the quarter, but the pressure is clearly showing, with both teams making critical mistakes in an error-riddled quarter.
Q3, 2 mins remaining: Melbourne 7.11 (53) v Carlton 7.5 (47)
Melbourne skipper Max Gawn has endured a testing night against Marc Pittonet and just missed a chance to extend the Demons lead when missing a set shot after out-marking his rival well within range.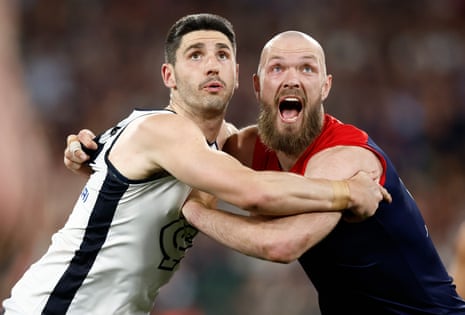 Q3, 5 mins remaining: Melbourne 7.10 (52) v Carlton 7.5 (47)
Kysaiah Pickett has been in the thick of the action in the semi-final, even when not in possession of the footy, and just conjured a goal from nowhere for the Demons.
In the midst of a pack, Pickett was able to wrestle the football from a contest and then found enough space to put the Demons back in front.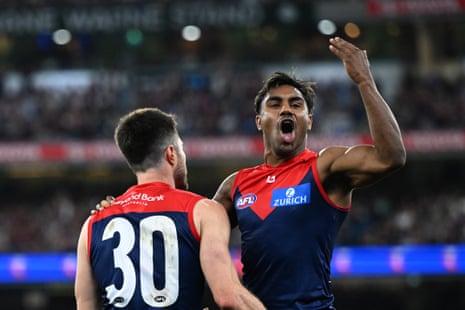 Q3, 7 mins remaining: Melbourne 6.9 (45) v Carlton 7.4 (46)
Bayley Fritsch has ended a slog through the middle of the third term when kicking his first goal for the match from 40 metres out.
Clayton Oliver booted the ball forward from off-the-ground on the wing and Pickett was able to win a contested ball to put Fritsch, who has been lively in this quarter, in position to kick a confidence-boosting goal for himself and also his side.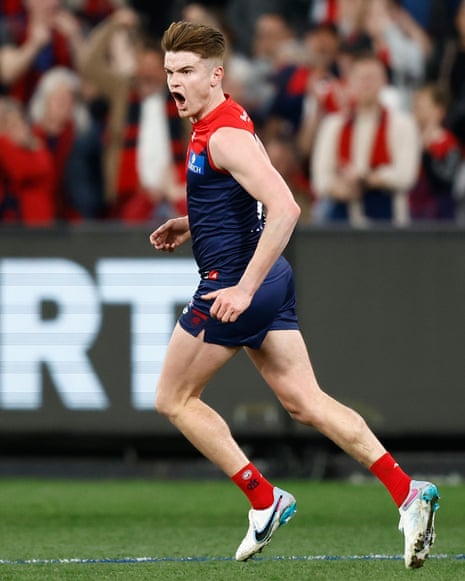 Q3, 8 mins remaining: Melbourne 5.9 (39) v Carlton 7.4 (46)
The pressure is telling during an error-riddled passage in the game, with both Carlton and Melbourne making mistakes when in positions to launch forward forays.
Inaccuracy cost the Demons last week and they are struggling to find fluency when going forwards again in the semi-final against Carlton.
Q3, 15 mins remaining: Melbourne 5.8 (38) v Carlton 7.3 (45)
Blake Acres has his left shoulder heavily strapped, but it has not stopped him from having a big impact on the match. Cripps was again influential in a passage that led to Acres kicking a set shot from attack, with the Blues skipper's ability to win the contested ball and set Carlton in motion a feature so far in the semi-final.
Q3, 17 mins remaining: Melbourne 5.8 (38) v Carlton 6.3 (39)
Joel Smith has kicked his third for the match after being found with a pass from Kysaiah Pickett deep in the forward pocket while free.
Pickett, who has earned the ire of Carlton fans for a couple of bumps, had earlier missed with a set shot from straight in front.
Q3, 19 mins remaining: Melbourne 4.7 (31) v Carlton 6.3 (39)
A superb intercept from Adam Saad on the wing led to a passage that culminated in Matthew Kennedy kicking the first goal of the second half for Carlton.
Patrick Cripps was able to pinpoint Kennedy, who had lost Jake Lever in attack, with a pass deep in the pocket and the Blue was good enough to finish with a goal.
Melbourne's decision to opt for a smaller than usual forward line reaped early dividends when the pressure was high, but as it dipped across the field, the scoring opportunities dried up for the Demons.
Nic Newman has proven a thorn in the side of the Demons, taking nine marks and recording 18 possessions.
The battle between ruckmen Max Gawn and Marc Pittonet has been fascinating. Gawn has had the better of the duel from a statistical point of view, but the Melbourne skipper's influence has been marginal.
Sam Walsh has been prolific when winning the footy, but he has also laid six tackles in a valuable contribution to date.
Melbourne forward Bayley Fritsch is yet to have a real impact, booting two behinds in the opening half as he seeks to regain confidence.
Half-time: Melbourne 4.7 (31) v Carlton 5.3 (33)
Carlton takes a two point lead into the major break in a low-scoring but entertaining semi-final after launching a superb counterattack from late in the first quarter.
The Blues kicked five goals in succession during a period of control before Melbourne stemmed the flow in the latter stages of the opening half.
Carlton's pressure has been superb. The Blues laid 25 tackles to nine in the second quarter and lead the tackle count by 12 at half-time.
Melbourne struggled for connection in attack against Collingwood a week ago and the Blues have scarcely made it easy for the Demons when kicking into attack.
Both Jacob Weitering and Caleb Marchbank have defended stoutly, though Joel Smith has been a handful in attack for Melbourne.
Sam Walsh, who kicked a great second term goal, and Jack Viney lead possession winners with 20 each.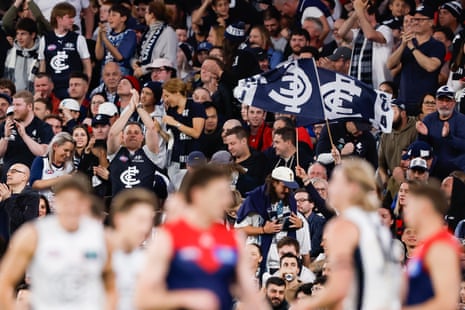 Q2, 3 mins remaining: Melbourne 4.7 (31) v Carlton 5.3 (33)
During a lull in scoring in the latter stages of the second term, Blue Tom de Koning still managed to set the hearts of Carlton fans aflutter with a spectacular mark in defence. The Demons kicking efficiency has dipped below 50 percent in this term, with the finals pressure applied by both sides leaving players with little time for decision making.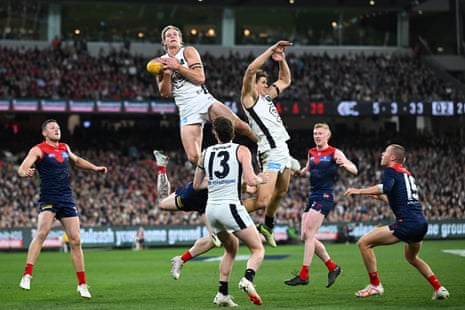 Q2, 6 mins remaining: Melbourne 4.6 (30) v Carlton 5.3 (33)
Former Carlton skipper Sam Docherty has headed to the rooms for treatment after his shoulder popped out following a spoil in a marking contest.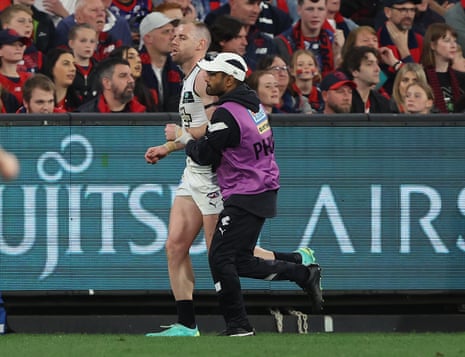 Q2, 8 mins remaining: Melbourne 4.4 (28) v Carlton 5.2 (32)
Joel Smith has booted a much needed goal for the Demons after marking strongly in attack. A focal point in the forward line, Smith has now taken three marks inside the 50-metre arc for two goals.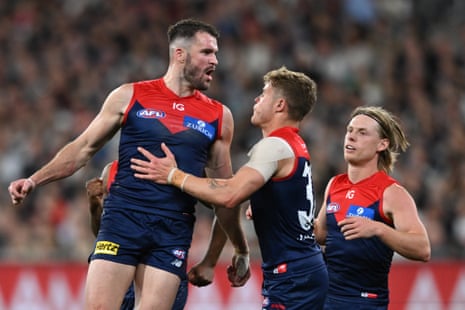 Q2, 10 mins remaining: Melbourne 3.4 (22) v Carlton 5.2 (32)
Charlie Curnow has kicked his 80th goal for the season, and Carlton's fifth in succession after a slow start, as the Blues wrest control of the semi-final midway through the second quarter.
Curnow was in the right position for a hurried kick forward, with Steven May unable to close the margin to spoil.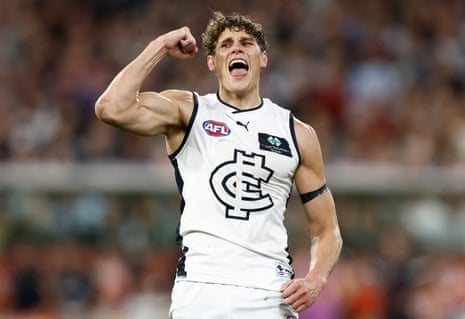 Q2, 11 mins remaining: Melbourne 3.4 (22) v Carlton 4.2 (26)
Sam Walsh, who has been superb with 16 possessions, has put the Blues in front with a clever check-side snap after some strong work from Patrick Cripps, who has returned to the fray, on the wing and then Matthew Kennedy in attack.
Jake Lever, who has been influential in defence for Melbourne in the opening term, found Kennedy too strong on that occasion.
Q2, 14 mins remaining: Melbourne 3.4 (22) v Carlton 3.2 (20)
Jesse Motlop has kicked Carlton's third goal in succession after cleverly playing on from deep in the forward pocket and then snapping accurately from close range. The Blues are now within two points after conceding the opening three goals of the semi-final.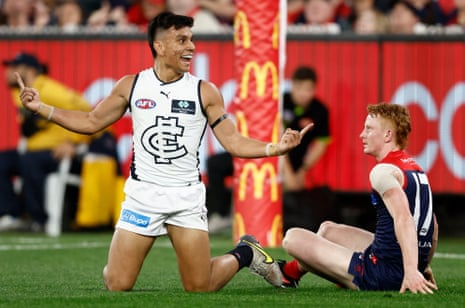 Q2, 17 mins remaining: Melbourne 3.3 (21) v Carlton 2.2 (14)
Kysaiah Pickett will be assessed by the match review officer after opting to bump Carlton skipper Patrick Cripps, who has come from the field to be assessed.
The Carlton captain has blood streaming from his nose after the contact.
The second term is where the Blues have flexed their muscles this year, outsourcing their rivals in 16 of the 24 terms they have played at a percentage of 155. But the Demons have also been more than sound, winning the term 17 times of the year at a percentage of 120.
QT: Melbourne 3.3 (21) v Carlton 2.2 (14)
Melbourne made their intent clear early in the term with a ferocious attack on both the footy and the man, which helped them kick the first three goals of the match.
They thrust the ball forward where possible, with midfielders Ed Langdon and Christian Petracca running forward to kick goals.
The Blues were blitzed but once the heat started to drop out of the game, they settled well and would be pleased to be within seven points given the Demons early dominance.
Tom de Koning is playing the perfect foil to Charlie Curnow and looks dangerous in attack for the Blues.
Sam Walsh and Jack Viney lead the disposal count with 10 touches each in what has been an entertaining opening term.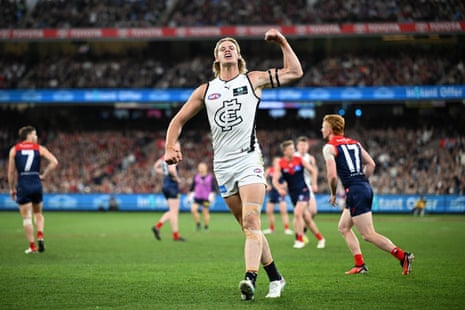 Q1, 4 mins remaining: Melbourne 3.3 (21) v Carlton 2.2 (14)
Another for the Blues, with de Koning kicking two goals in as many minutes after receiving a free kick for a push in the back awarded against Adam Tomlinson.
Two long kicks inside 50 metres have worked for the Blues, who have finally settled after an intense opening.
Pittonet was able to win the ruck contest over Gawn and that sparked the forward thrust.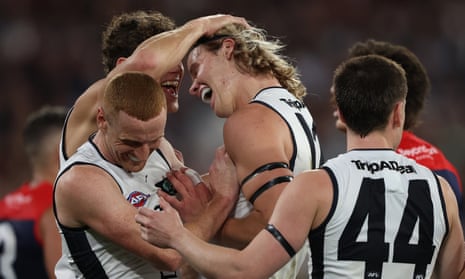 Q1, 5 mins remaining: Melbourne 3.3 (21) v Carlton 1.2 (8)
The Blues are on the board! Tom de Koning kicks Carlton's first goal of the semi-final after marking strongly over Jake Bowey, who was conceding height to the forward.
Q1, 8 mins remaining: Melbourne 3.3 (21) v Carlton 0.2 (2)
Christian Petracca has snapped a superb goal from near the boundary line as the Demons extend their early dominance in the semi-final.
The Demons have been scoring from intercepts, with the pressure they are applying causing significant issues for the Blues.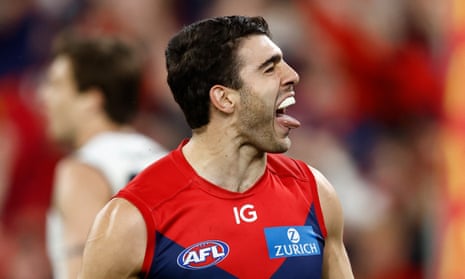 Q1, 10 mins remaining: Melbourne 2.3 (15) v Carlton 0.2 (2)
Joel Smith has added Melbourne's second goal for the match after receiving a free kick about 25 metres out when a tackle from Blue Caleb Marchbank slipped high.
Smith earlier marked strongly in attack but was denied an opportunity to kick for goal when his teammate Pickett tangled with a Demon opponent, forcing a reversal.
Q1, 17 mins remaining: Melbourne 1.2 (8) v Carlton 0.1 (1)
Demon Ed Langdon has pounced in the goal square to kick a goal after advantage was paid following a free kick issued to his teammate Kysaiah Pickett at the top of the square.
Charlie Curnow and Charlie Spargo had early chances in a lively opening.
First AFL semi-final is under way!
No surprises in terms of a couple of key match-ups.
Melbourne's premiership full-back Steven May has headed straight to Coleman Medallist Charlie Curnow.
Carlton skipper Patrick Cripps and Melbourne midfield star Clayton Oliver enjoyed a wrestle before the opening bounce.
And Max Gawn and Marc Pittonet squared off in the opening ruck duel.
A massive roar follows the Australian anthem performed with beautiful harmony by duo Sam and Sam as Melbourne captain Max Gawn smiles in anticipation of what is to come.
The players and coaches from both Melbourne and Carlton have lined-up to witness the welcome to country led by Uncle Colin Hunter Jr, an elder of the Wurundjeri people, with the match being held at the MCG, which sits on their traditional lands.
There are some anxious Melbourne fans at the MCG tonight with less than ten minutes until the siren sounds.
After a drought of almost six decades, Melbourne captains Max Gawn and Daisy Pearce have held aloft the men's and women's premiership cups over the past two years.
But those successes have not necessarily satisfied the club's heartland, for Victorian fans were unable to attend the 2021 AFL grand final in Perth due to COVID-19 restrictions, while the AFLW flag was claimed at a suburban ground in Brisbane last November.
Fans and players alike discuss their desire to play for a premiership on their home turf at the MCG in this article.
Both sides are now completing their final warm-ups on the MCG with the temperature hovering near 20C. Speaking of the beautiful weather today, there are few better spots in Melbourne for a walk than through the suburb of Carlton when the sun is shining.
In this lovely piece from Nino Bucci exploring the Blues' links to the suburb the club is named after, he takes a stroll along Canning St in North Carlton, through the grounds of Princes Park which still hosts AFLW matches and down to Lygon St in the heart of Carlton and touches on the rich multi-cultural history of the area.
Melbourne captain Max Gawn, who is playing despite a toe injury, has now lead the 2021 premiers on to the MCG and through a banner proclaiming the Demons are "powerful and passionate".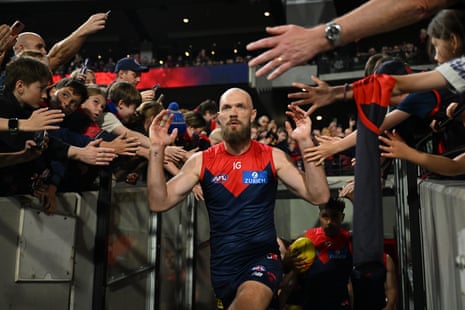 With a smoke machine billowing in the race, Carlton captain Patrick Cripps has led the Blues on to the MCG and through a banner reading "Stronger Together".
The players have been out on the field warming up.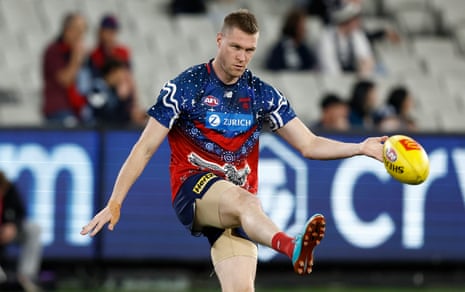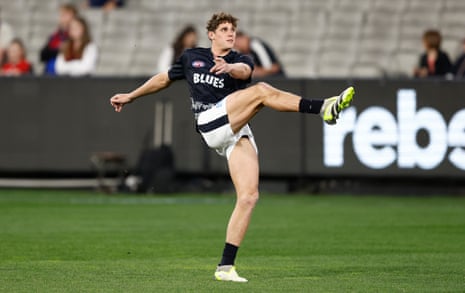 Fans queueing to enter the MCG earlier were able to enjoy some lovely September sunshine.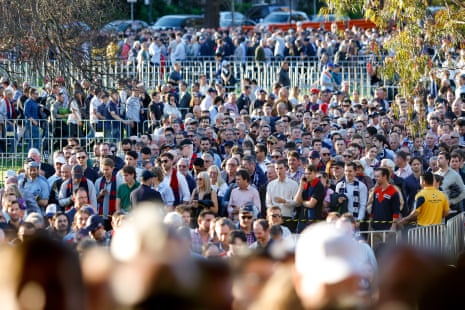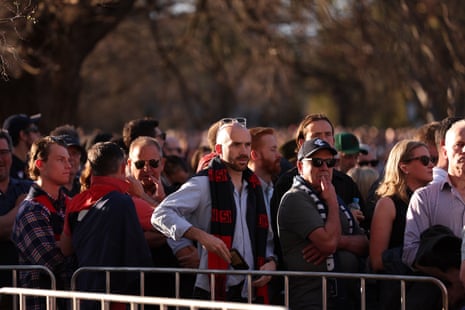 Last time they met
Melbourne had claimed eight wins in succession over Carlton, including a 17-point victory at the MCG in a night match at the start of winter. But the Blues ended the streak when winning a thriller in Rd 22 by four points, kicking 9.6 (60) to Melbourne's 8.8 (56). Angus Brayshaw, who misses this match with concussion, gathered 31 touches, while Coleman Medallist Charlie Curnow kicked two goals for the Blues. The match finished in controversy, with a goal review falling Carlton's way at the end.
Carlton coach Michael Voss is enthused by the energy inside and outside the MCG and said he was delighted to have the opportunity to coach the Blues in another big final.
"I could get used to this. I don't mind coming to the MCG when it is a packed house," he told Fox Footy.
Voss said the Blues have been hit in attack with Martin and McKay missing, but feels that if Carlton's smaller forwards are active, "that could be the difference" for us. But he noted Melbourne's forward line appeared to be shorter than usual, so it was important for Carlton's coaching committee to get "the match-ups right".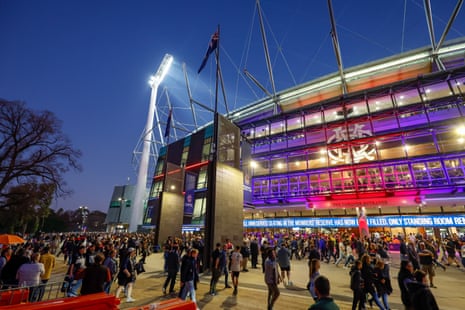 Both teams were forced to make changes due to injuries and suspensions to key personnel stemming from the first weekend of finals. Melbourne midfielder Angus Brayshaw was concussed last week in an incident that polarised AFL fans, with Collingwood's Brayden Maynard cleared of suspension. Jacob van Rooyen is out for Melbourne through suspension, while Blue Jack Martin was also rubbed out by the tribunal. Blues defender Harry McKay is injured. Melbourne has favoured former Lion and Bulldog Josh Schache over Brodie Grundy as their substitute, while Oliver Hollands will be the substitute for Carlton if required.
Melbourne
FB [8] Jake Lever,[20] Adam Tomlinson,[17] Jake Bowey
HB [41] Judd McVee,[1] Steven May,[3] Christian Salem
C [12] Lachie Hunter,[13] Clayton Oliver,[15] Ed Langdon
HF [23] James Jordon,[31] Bayley Fritsch,[5] Christian Petracca
FF [32] Tom Sparrow,[25] Tom McDonald,[30] Alex Neal-Bullen
Fol [11] Max Gawn,[7] Jack Viney,[36] Kysaiah Pickett
I/C [9] Charlie Spargo,[24] Trent Rivers,[29] Joel Smith,[37] Kade Chandler
EMG [6] Brodie Grundy,[14] Michael Hibberd,[16] Bailey Laurie,[19] Josh Schache
Carlton
FB [17] Brodie Kemp,[23] Jacob Weitering,[24] Nic Newman
HB [39] Alex Cincotta,[11] Mitch McGovern,[42] Adam Saad
C [13] Blake Acres,[9] Patrick Cripps,[46] Matthew Cottrell
HF [15] Sam Docherty,[12] Tom De Koning,[44] Matthew Owies
FF [8] Lachie Fogarty,[30] Charlie Curnow,[3] Jesse Motlop
F [27] Marc Pittonet,[5] Adam Cerra,[18] Sam Walsh
IC [22] Caleb Marchbank,[29] George Hewett,[28] David Cuningham,[7] Matthew Kennedy
EMG [2] Paddy Dow,[14] Oliver Hollands,[25] Zac Fisher,[38] Sam Durdin
Umpires
Simon Meredith (21), Nathan Williamson (22), Andre Gianfagna (27), Jacob Mollison (32)
A superb day in Melbourne, with blue skies and little wind, has proven the perfect precursor to tonight's intriguing semi-final between Melbourne and Carlton at the MCG.
A near capacity crowd is expected for the sudden-death final and fans are enjoying in the warmth while walking to the ground past Birrarung Marr along the Yarra River, through the Fitzroy Gardens to the north and from Richmond and Jolimont Stations.
Inaccurate kicking cost the Demons a week against Collingwood, while Carlton clinched a narrow win over the Swans in the elimination final.
Melbourne risks being the first club under the current finals system to exit the finals in straight sets in consecutive years, while the Blues are seeking a spot in the first preliminary final since 2000.
At stake is a trip to Brisbane to play the Lions at the Gabba for a spot in the grand final. The opening bounce is 50 minutes away, so settle in for what could be a thriller.