Set up smack-bang in AFL heartland, the Melbourne Storm's biggest Aussie rules star arrived by way of Kawerau on New Zealand's North Island.
Key points:
Will Warbrick scored the game-winning try for Melbourne in the 79th minute of their semifinal against the Roosters
He played AFL New Zealand and won a silver medal in rugby sevens for New Zealand in Tokyo
Warbrick has scored 17 tries and played almost every game for the Storm in his first NRL season
Will Warbrick played a little bit of rugby league at school but his first major recognition was as a nominee for AFL New Zealand's Rising Star award as a teenager in 2016.
A forward and midfielder, his "strong vertical leap, elusiveness and solid marking ability" made him an impressive forward or midfielder and he represented New Zealand's national Aussie rules team in his rookie year.
When Warbrick was signed by the Storm, all the talk was about his rugby sevens pedigree. And fair enough too.
He won a silver medal with New Zealand at the Tokyo Olympics before making a career change to rugby league, signing with a system that has a track record of squeezing every last drop of talent out of players.
The Storm do this by maximising their strongest attributes and keeping things simple, even if that means stashing a star athlete in the Queensland Cup for a full year.
For Warbrick, based on the YouTube search every rugby league fan did when he was signed, it meant running hard and breaking tackles.
But Warbrick had his big AFL moment on Friday night, showing off his high-flying marking ability to get the Storm over the line in a thrilling 18-13 semifinal win over the Sydney Roosters.
Down one with less than two minutes left and out of position for a tying field goal, the Storm turned to superstar Cameron Munster, who had already earmarked Warbrick for this moment.
"Will's good in the air and I knew they had a short little winger," Munster told ABC Sport after the game.
"I'd been telling him all week 'just be ready'."
Munster's kick came off his left boot at the perfect angle, sailed cross-field with the perfect trajectory and landed in the perfect spot for a 50/50 aerial contest.
Warbrick steadied himself, ran in on an arc, leapt, drove his knee into Junior Pauga's backside to get him out of the way, wrapped both mitts around the ball and refused to let go, even as Pauga pawed at it.
He landed, backwards, and drove himself towards the tryline, overpowering the cover defence determined to deny him and slamming the ball down.
Ball game.
Warbrick confirmed he had been in cahoots with Munster, the rugby league savant whose instinct-driven approach runs totally counter to Warbrick, who is still learning on the job.
"I knew the kick was coming," he told ABC Sport.
"Me and Munny spoke about it during the week and practised a couple. But to put it into practice in the dying moments of the game and pull it off, I've got no words.
"You dream of those kinds of moments."
It was a long way from the first few games of the season, when Warbrick, while still an undeniably impressive athlete, struggled with the nuances of rugby league, particularly in defence.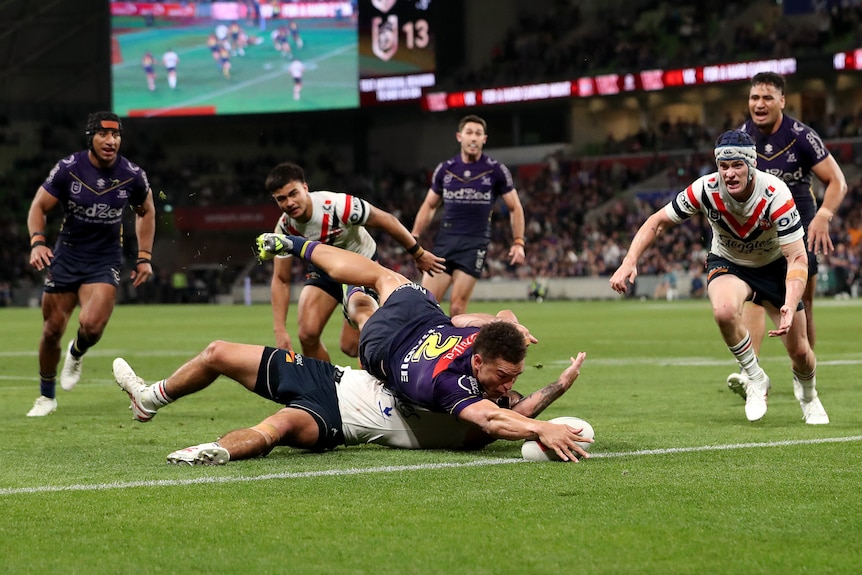 Despite that, he has missed only one game this year, when the Storm rested a host of stars for the final match of the regular season.
"It's taken him a little while to get used to our game [but] I've really been very impressed with the progress that he's made," Storm coach Craig Bellamy told reporters.
"That was one hell of a big play. That contest would've done justice over the road [in the AFL at the MCG].
"If he hadn't come up with that play, we lose."
Warbrick scored four tries in a game against the Tigers earlier this year, he nabbed a hat-trick late in the season and has even touched down for his country at the Olympics.
But his 17th try of his first NRL season sent them into a preliminary final against Penrith and will go down in Storm history as one of the team's great finals moments.
Munster probably summed it up best.
"He didn't miss his task when it mattered most. Clutch play from Will."
Loading