The second AFL semi-final takes centre stage on Saturday night, as the final game of the 2023 season in Adelaide sees Port host GWS with the prize for the winner being a date with Collingwood in a preliminary final. Read on for CODE Bet's AFL Finals betting analysis and best bets for Port Adelaide Power vs GWS Giants at the Adelaide Oval on Saturday, September 16 at 7.40pm.
PORT ADELAIDE POWER (3rd) v GWS GIANTS (7th): SATURDAY AFL SEMI-FINAL BETTING PREVIEW
PORT ADELAIDE: $1.64 (via TopSport)
GWS GIANTS: $2.35 (via betr)
Adelaide Oval, Saturday, 7:40pm
Full CODE Bet Match Centre here
PORT ADELAIDE vs GWS: WHAT WE'RE LOOKING AT
Port Adelaide has won four straight against GWS.
The Power have won each of its last eight matches as a home favourite.

The last five GWS matches have gone over the total points line.
PORT ADELAIDE vs GWS: THE AFL FINALS BETTING MATCH-UP
With the winner heading to a preliminary final against Collingwood, both Port Adelaide and GWS have everything to play for Saturday night at the Adelaide Oval.
This will mark the first time in which these two clubs have met in finals, but the two met in round 22 when Port belted the Giants off the park 136-85 led by Zak Butters with 34 disposals.
Last weekend, Port travelled to Brisbane knowing no matter the result their next game would be a home final. But injuries to Trent McKenzie and Dylan Williams soured what was a horrendous night as the Power lost by 48 points.
GWS, courtesy of a second half blitz against St Kilda, won its elimination final by 24 points at the MCG. Tom Green was everywhere with 35 disposals, as was Josh Kelly who helped himself to 27 disposals and two goals.
GWS have now played in five consecutive games where the total score has gone over the points line and with perfect conditions expected on Saturday night, expect this to go over once again.
Zak Butters of the Power looks to pass the ball. Picture: Daniel Pockett/Getty Images
POWER: DON'T DROP A HOME FINAL
After all the hard work that the Power did in the home and away season, Port Adelaide earned itself a home final courtesy of finishing in the top four.
Oddly, Port has lost three of its last five finals at the Adelaide Oval, which is obviously a worry heading into this game, given the hammering ir was handed by Brisbane last weekend.
In the round 22 matchup, the Power jumped GWS in the first quarter, kicking seven goals to three, setting up the big victory.
Port has won eight of the last 12 first quarters as hosts this season. When Port have led at quarter time this season at the Adelaide Oval, the Power went on to win the game.
Zak Butters has been Port Adelaide's best player all season and really shining through in the back half of the season. In his last seven games Butters has had 29 or more disposals at an average of well over 30 a game.
In the 17 wins that Port Adelaide have had this season, Butters has had 24 or more disposals. When he fires, Port tends to wins.
Dan Houston continued his brilliant season last week with 27 disposals against the Lions.
That marked the 18th game this year in which he has had 20 or more off the half back flank.
With Port Adelaide lacking heavily in defence, Houston will need to hit around his seasonal average of 25 disposals if Port Adelaide are to have a chance of winning this game.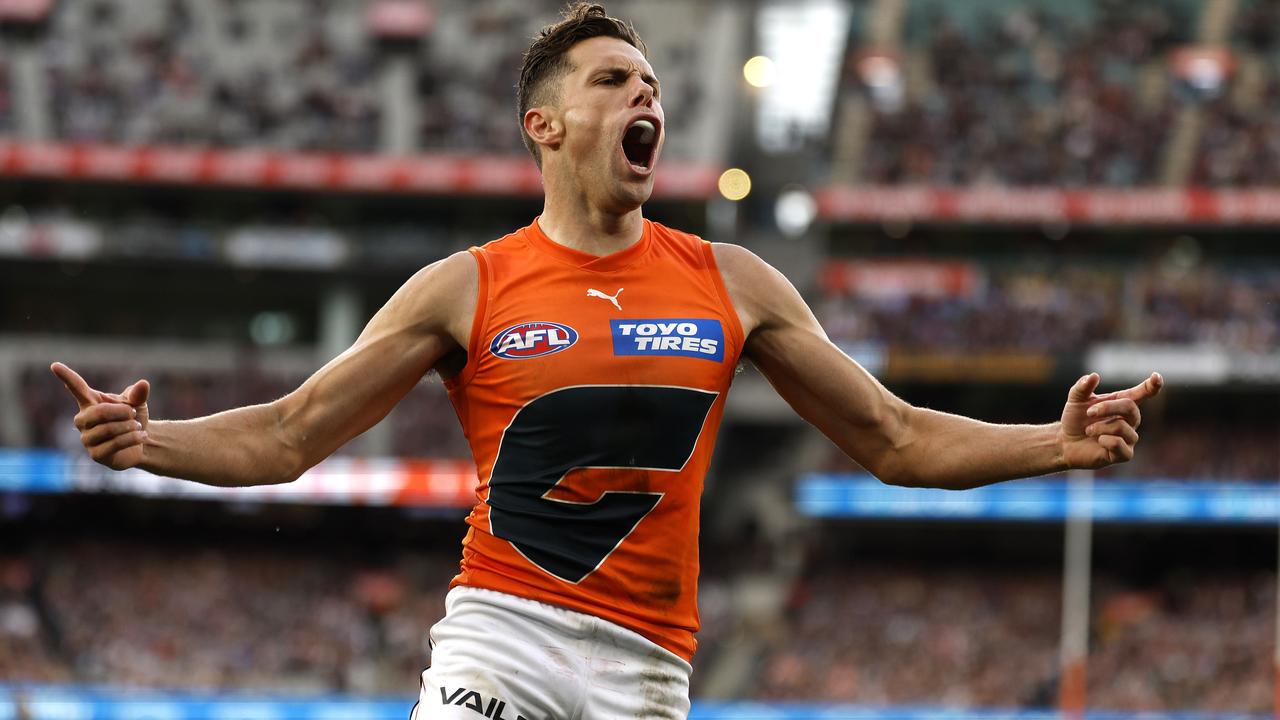 Giants Josh Kelly celebrates kicking a goal. Picture: Phil Hillyard
GWS: A BIG, BIG SOUND IS BREWING
GWS has nothing to lose on Saturday night, as the pressure is firmly on Port Adelaide. GWS have been tremendous on the road this season, winning at 11 different grounds this season.
One of those has been the Adelaide Oval.
Last week at the MCG, GWS nullified the vocal St Kilda crowd by getting off to a fast start, which turned into a dominant first half performance. The end result was a comfortable four goal win to make it three wins in a row and the third game in which the Giants have kicked 100+ points
Lachie Ash was brilliant last week for the Giants and it has been a clear career best season from the half back flanker.
In 2023 Ash has not had less than 19 disposals in any of his games and averages 24.2 possessions a contest.
Fresh off of 31 disposals against the Saints, his run and carry from half back is going to be important on the Adelaide Oval as the Giants look to quickly rebound out of defence.
Last Saturday against St Kilda, Josh Kelly showed why he was the most important player in the GWS midfield.
Kelly was one of the most dominant players on the ground with 27 disposals and two goals. One of those majors came at an important juncture in the second quarter as the Saints were mounting a comeback.
Saturday is Kelly's 14th final and his average disposals per final (25) sits bang on his career mark, showing the midfielder can get the job done in important games too.
Kelly loves playing at the Adelaide Oval as well. In 14 games played at the ground on average he's collected 29 disposals a game.
If Josh Kelly gets those numbers on Saturday, the Giants likely win.
GIANTS STANDING TALL
Toby Greene was solid without being phenomenal last weekend, which only made GWS's win even better than it looked.
In 14 games against Port Adelaide he has kicked 14 goals, with a disposal average of 22.4 (well above his career average of 20).
At the Adelaide Oval specifically, Toby has 20 goals in 14 games and importantly in finals he has kicked 21 goals in 12 games so far. Look for it to be 'Toby Time' once again on Saturday night.
Tom Green was mentioned in the Port Adelaide vs. GWS Giants: Five Best Early Bets: AFL 2nd Semi Final article. Green has averaged 35.8 disposals in the last five weeks.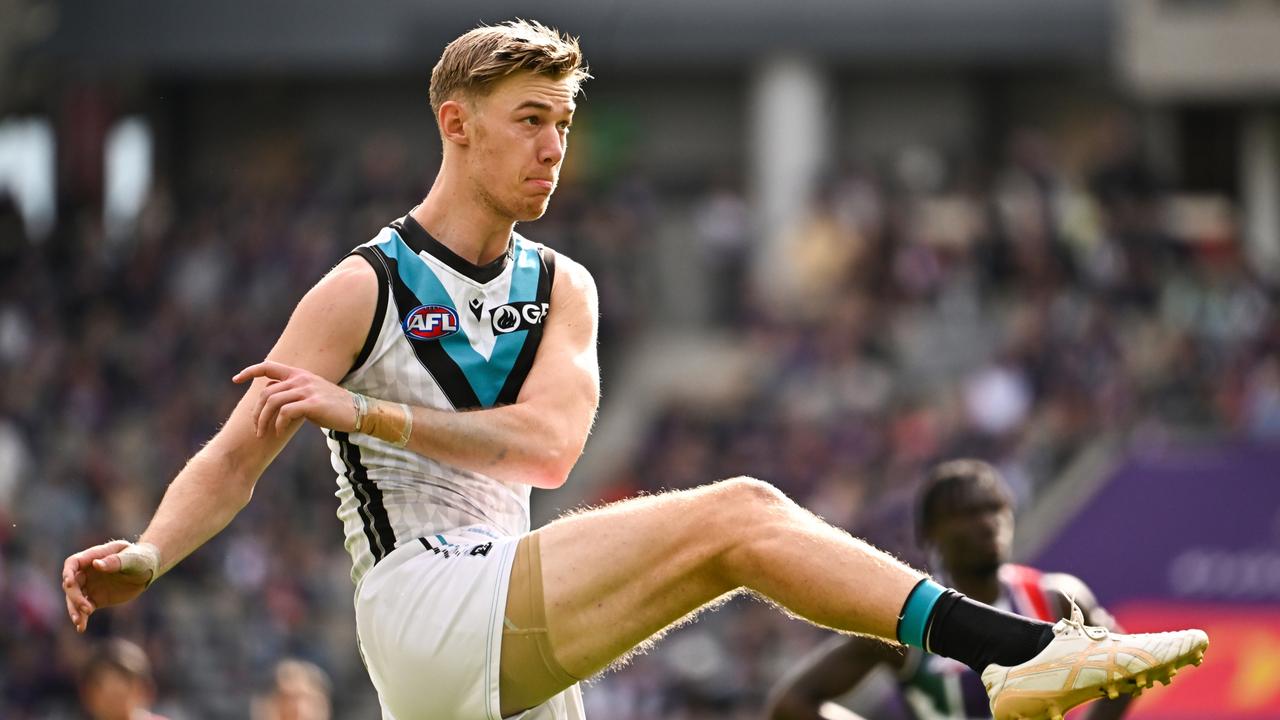 Todd Marshall of the Power. Picture: Daniel Carson/AFL Photos via Getty Images
GOAL KICKING PROP: PORT ADELAIDE
Todd Marshall was poor last week, kicking just two goals and missing another three that cost Port Adelaide some much needed momentum early in the game.
Going back to the Adelaide Oval is a big tick for Marshall as he has kicked 2+ goals in each of his last four appearances with Port Adelaide as a home favourite.
But with question marks around Charlie Dixon's fitness and Jeremy Finlayson dropped, Marshall needs to have a 'day out'.
GOAL KICKING PROP : GWS GIANTS
Jake Riccardi was the focal point for the Giants on Saturday against St Kilda and helped himself to three goals.
In the past seven games, Riccardi has now booted 17 majors, including a four-goal haul against Port in round 22.
The Power's defensive stocks look to be in disarray due to injuries to Trent McKenzie, Tom Jonas and Dylan Williams. It means Riccardi could find himself in an instant mismatch like he did in round 22 and help himself to a handful of snags.
PORT vs GWS: WHO WINS?
Despite the recent record against Port, the lean is to the Giants.
Since the defeat to Port last month, GWS has reeled off three wins in a row with three scores of 100 or more.
That attacking flair up against an injury riddled Port defence, says the Giants are great value.
PORT ADELAIDE vs GWS: AFL FINALS BETTING – SAME GAME MULTI
'No, Not That Tom' Green has averaged 35+ in his last five games.
Zak Butters 25+ disposals
Butters dipped below his recent average of 30 last week with 29 touches, play it safe with 25.
Kelly has recorded 25+ disposals in each of his last 17 away appearances.

Connor Rozee 20+ disposals
The midfield weapons has had 25+ in his last 12 at the Adelaide Oval, but high pressure in a final may see that dip.
Dan Houston 20+ disposals
No problems here as Houston has had 20 or more in his last four at the Adelaide Oval.
Ollie Wines 15+ disposals
Wines has 20+ disposals in each of Port Adelaide's last 37 matches as a favourite at the Adelaide Oval, but finals pressure may see that dip.

Toby Greene 15+ disposals
Finals specialist Toby Greene averages well over 15 disposals a game in finals, but comes off of just 19 touches last week.
Greene has kicked 2+ goals in 17 of his last 19 appearances.

With the depleted Port backline, Riccardi will get his chance to hit the scoreboard.
Marshall has kicked 2+ goals in each of his last four appearances with Port Adelaide as a home favourite.

Callum Brown anytime goal
Brown has one or more in his last eight matches.
11 Leg Port-GWS Semi-Final SGM @ $34.54 (via Ladbrokes)
[all odds as of September 15]
– CHECK OUT CODE BET'S AFL BETTING TIPS, PREDICTIONS AND ODDS ANALYSIS HUB HERE –